→
Projects
→
Shopping Square Sector A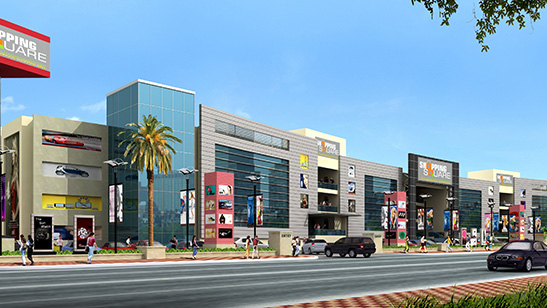 O

verview

Shopping Square offers a prime opportunity to retailers through well designed structure for healthy investment. Each shop location has been ideally placed to ensure maximum footfalls & visibility. Proper provision or ventilation and natural light for each shop has been made. Food court & entertainment zone have been created to add to shoppers delight While ample parking space will make sure that Shopping Square becomes the preferred destination for all the families living in Sushant Golf City.
F

eatures
Huge Atrium
Wide alleys
Aesthetically designed retail outlets and office spaces
High Speed Elevators & Escalators
Ample parking space
Multi level security
Un-interrupted Power Supply
This elegantly designed structure is set to be the new commercial hub of Sushant Golf City.
S

pecifications

TYPE OF STRUCTURE
Framed Structure Confirming to BIS Seismic Codes with Brick Masonry Filler Walls
FLOOR FINISHES
Corridors
Stone / Vitrified Tile Flooring
Stairs
Stone Flooring
TOILETS
Flooring
Non Skid Ceramic Tiles
Walls
Ceramic Tiles as per Architectural Design
Chinaware
White coloured European WC & Wash Basin with CP fittings
COUNTER
Marble counter(wherever shown in Sale Plan)
OFFICE (DOOR)
6

mm Float Glass with MS Frame Window
SHOP FRONT
MS Rolling Shutter
WALL fINISHES
Internal
Plastic emulsion paint on walls in common areas
External
Semi Permanent Finish / Texture Paint
External Plaza/ Arcade
Granite/Concrete Pavers/Sandstone or combination
OTHER FEATURES
Bare walls & Floor in every Office / Shops
Only electrical DB in each Shop / Office
Provision for One Telephone point and One TV point in each Shop / Office entrance.