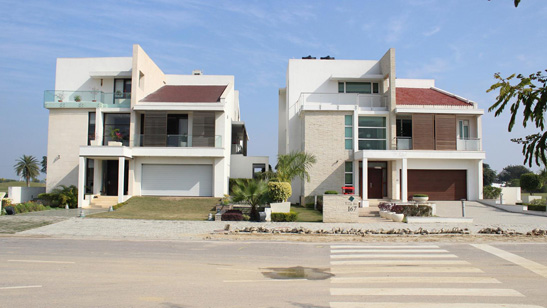 O

verview
the fine world of affordable villas
When you want the real comforts of life and are in the lookout for your ideal lair, come to our low cost villas.
Premium luxurious life amid the solitude of a lush green environment.
A unique and independent setting designed for you. Not to mention the luxurious amenities within a hands reach.
F

eatures
Keyless entry - Secure handle with keypad & secure Key Mortise lock
Automatic Garage door opening and automatic lighting through occupancy sensor.
Villa peripheral security - Through High resolution IP CCTV camera installed at strategic locations.
Magnetic sensor - at strategic locations to get alert in case of unauthorized entry.
Glass break sensor - at strategic locations to get alert in case of unauthorized entry through windows.
Entire home on private Wi-Fi network for easy broadband access
LPG sensor inside kitchen - for alert in case of emergency.
On - off of the appliances like points, Fans, Air conditioners, Geysers etc .
Dimming control
AC temperature control
Remote Control
Mobile
Laptop / Personal Computer
Tablet
Automatic lighting inside the Lift on entering.
Alarm inside the Home
SMS alert on predefined numbers stating the area of alert
Actual picture of your home area with the appliances installed for control and configuration. So, no need to remember anything for control. Just navigate inside your home, select the area, and touch the appliance ...It works.
S

pecifications

TYPE OF STRUCTURE
Composite load bearing structure conforming to BIS Seismic codes
FLOOR FINISHES
Foyer, Gallery, Lounge , Dining , Family room
Indian marble / imported marble
Master Bedrooms
Highquality laminated wooden flooring
All other Bedrooms
Marble in pattern
Balconie and decks
Porcelain/ Ceramic - Anti skid tiles
Terrace and swimming pool deck
Porcelain/ Ceramic tiles/Composite tiles
KITCHEN
Flooring
Marble/ Stone/ Vitrified Tiles in pattern
Dado
Marble / Tile in pattern on wall as per architectural design
Woodwork
Modular kitchen with Chimney and Hob
Water Supply
Hot and Cold water
CP Fittings
High end single lever
Sink
Double Bowl sink with drain board
BATHROOMS
All Bathrooms will be with 4 fixtures Master bedroom bathroom with Glass cubicle with SS patch fitting/ bath tub
Flooring
Marble / Stone in pattern/anti skid tiles
Walls
Stone /Ceramic tiles in pattern as per architectural design
ChinaWare
High end Chinaw are Star White with wall hung W/Cs
CP Fittings
High end Single Lever
Counter
Marble / Granite stone
Water Supply
Hot and Cold water
JOINERY
Windows
W indow s w ith teakw ood fram es and shutters with Mosquito net shutter provision and brass / SS fittings
Doors
Teakwood frames with paneled wooden doors. All doors will have brass / SS fittings
FINISHES
All wooden work shall be painted / polished
Walls shall be finished with premium quality emulsion paint in pleasing shades Plastic emulsion paint in common areas
POP surface treatment on all walls
OTHER FEATURES AND FEATURES
Hydro pneumatic pumps to maintain water pressure.
Geysers of adequate capacity for hot water supply
EXTERNAL FINISHES
Stone / stone tile / tiles along with all weather paints in combination as per architecturaldesign
OTHER FEATURES
Modular Wardrobes
VRV Air-conditioning units
Toughened glass railing with SS patch fittings in balconies and decks
Balconies to have adjustable/movable slatted sunshades as per architectural design
Steam room in each villa
Elevator in each villa
Provision of BBQ stack on roof terrace
Swimming pool with Jacuzzi in each villa with filtra tion plant (Optional)
Home Automation as defined in brochure
Car Parking in each villa, Car garage wherever provided will have automatic garage shutter
TV, Telephone point in each room with provision for DTH dish
Provision for smoke detectors/fire alarm
Provision for burglary alarm
Each villa with separate servant quarter
F

loor

P

lan
emperor
monarch
regalia